About The Race
Pocari Sweat Run Event started in 2016 as a physical event and held 4 successive years (2016, 2017, 2018, and 2019). This year, through the experience of running with the Pocari Sweat Virtual Run 2021, we hope to restore the enthusiasm of runners to always be active and healthy. Additionally, Pocari Sweat Virtual Run 2021 brings the opportunity for runners to donate to places, which are in need of support, while runners can also attain a healthy lifestyle as well.
Virtual Race Information of Event Day
Event Date - 28 February 2021
Event Time - 6:00am to 9:30am
Final Submission of Race Result Upload Time - 9:30 AM, 28 February 2021
Registration Fees
Pocari Sweat Virtual Run 2021 Registration Fees
Type of Package
Basic Package (T Shirt, Finisher Medal, E-Bib, E-certificate)
Premium Package(Basic Package + Race Bag)
Registration Fees
(6 Jan 2021- 26 Feb 2021 at 12:00pm)
16,000 MMK
21,000 MMK
*Registration fees for Myanmar Nationals and Foreign Residents will be the same*
Basic Package

Pocari Sweat Run T-Shirt
Finisher Medal Upon Completion of the race
E bib
E certificate
Sponsor Product (AYA Sompo Insurance)

Premium Package
Basic Package + Race Bag
Entitlements delivery is within Myanmar region only.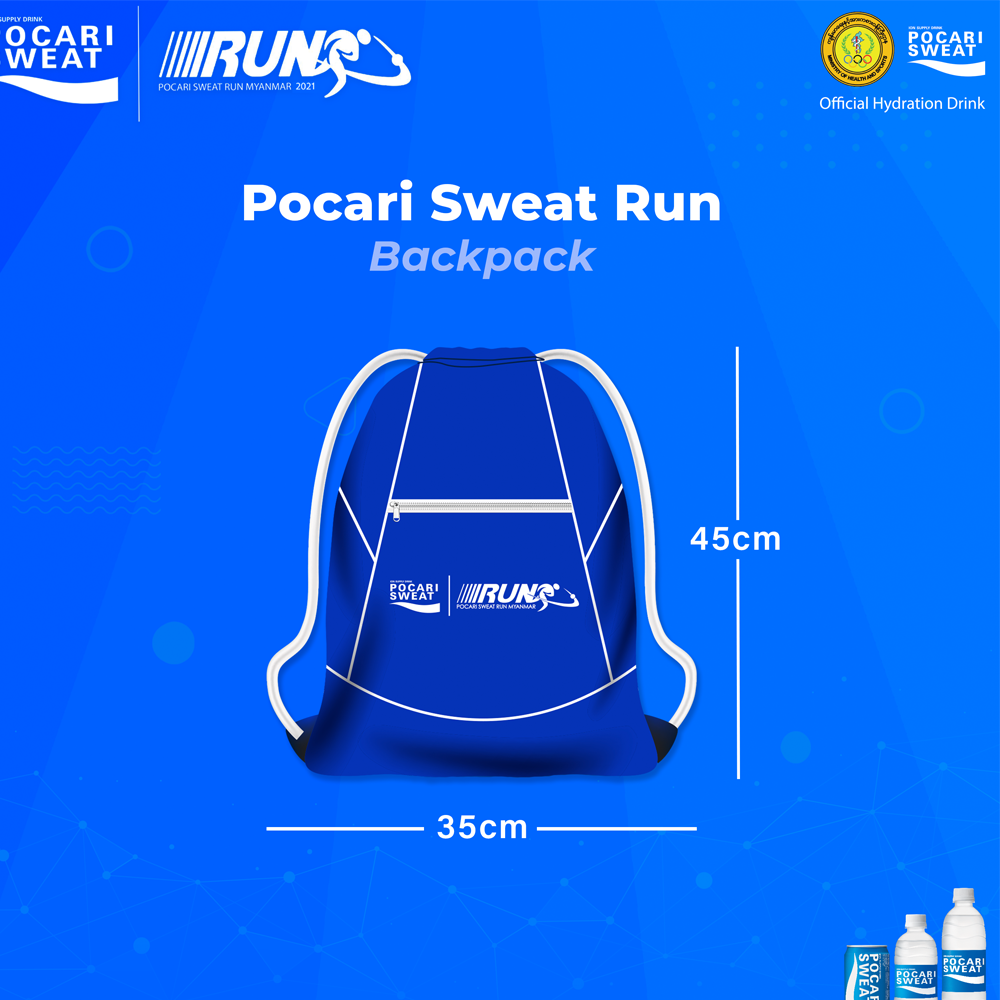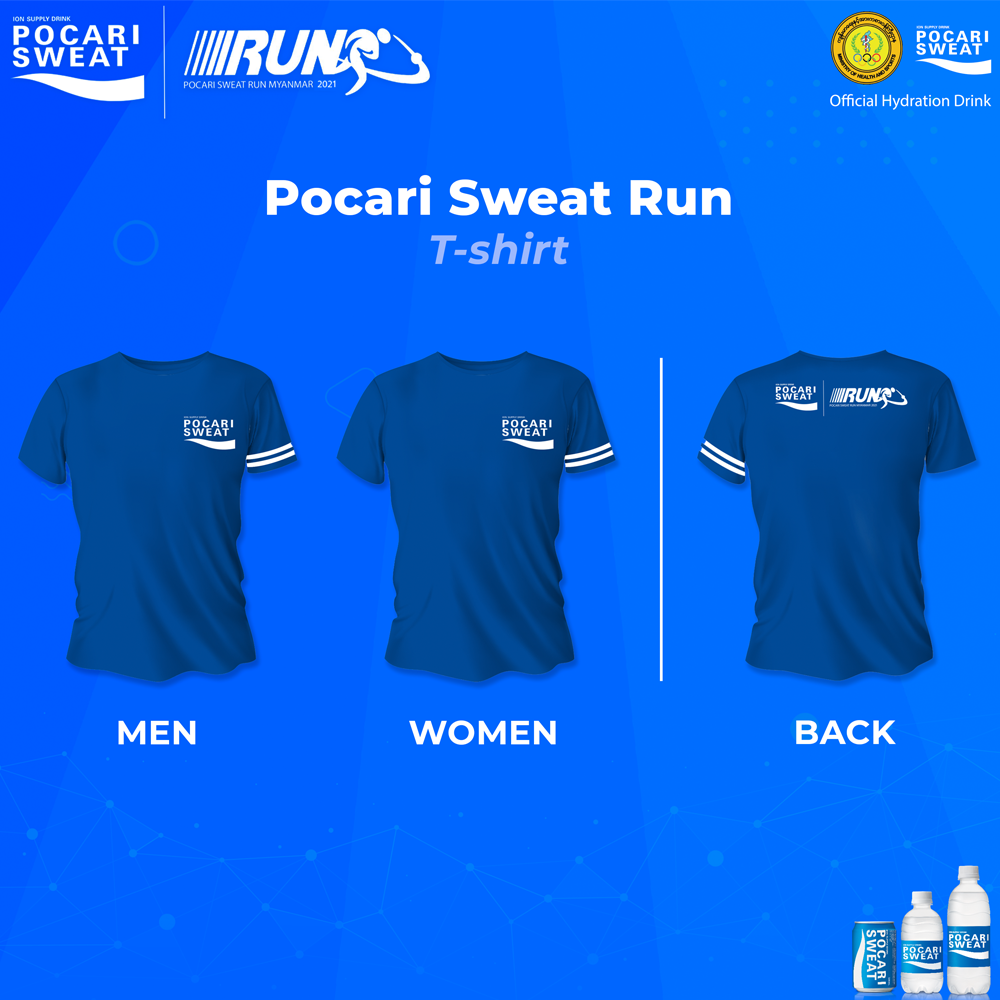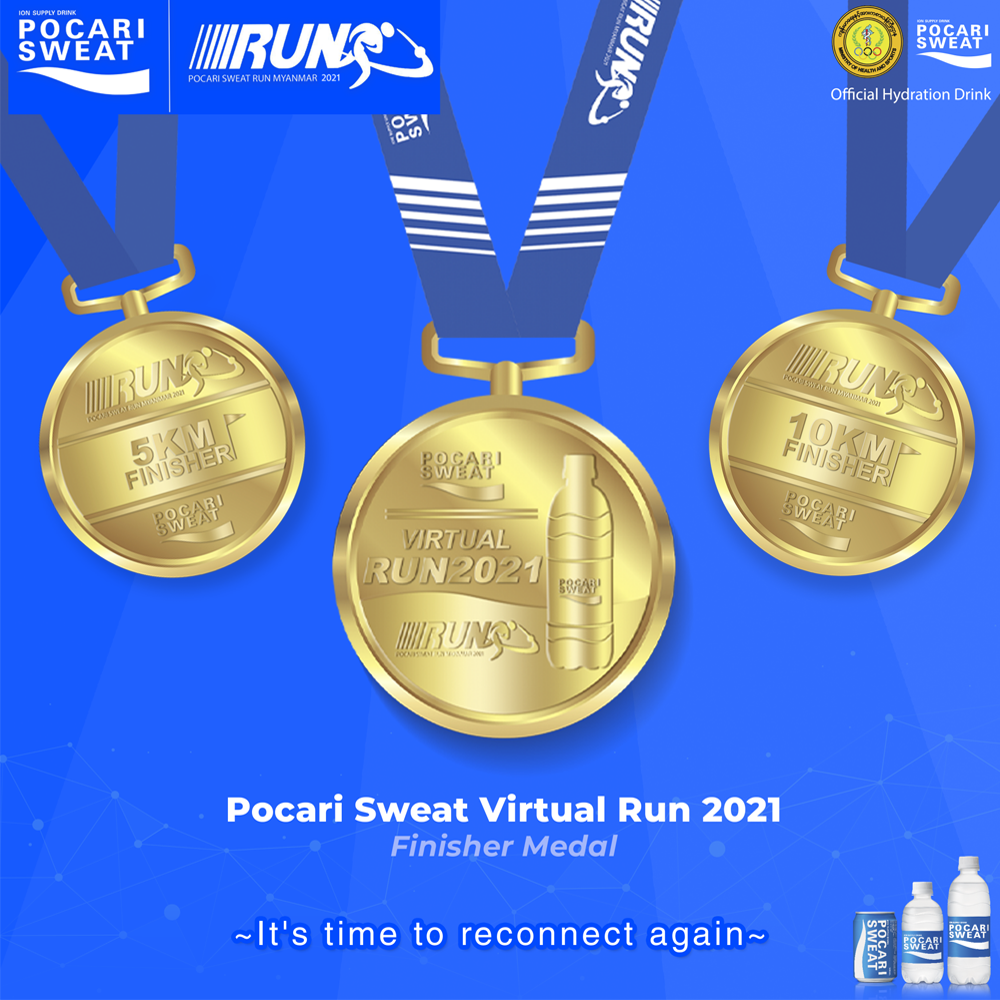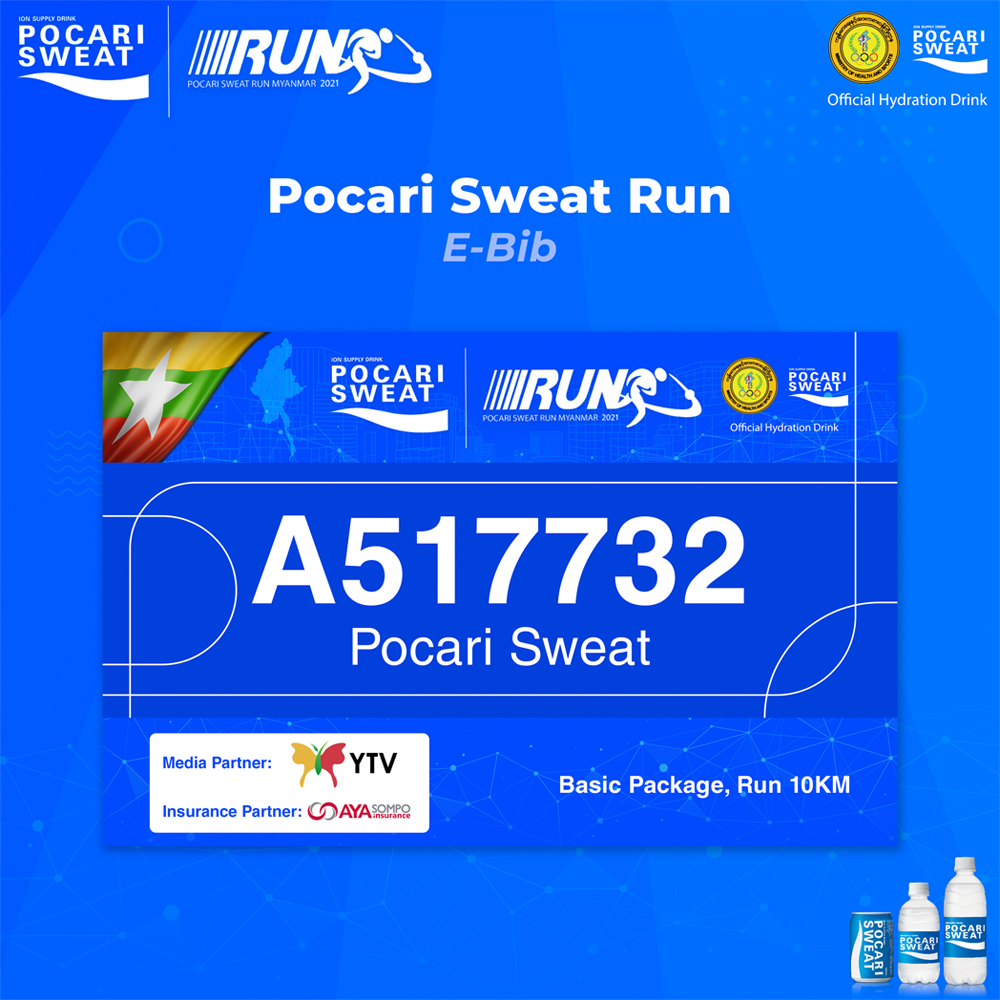 T-Shirt Size Chart
Entitlements Delivery
Entitlements will be free delivered within a month after the event day.
For Yangon & Mandalay - Door to Door Delivery
For other regions - Delivery to Express Station of Respective Cities
Frequently Asked Questions
Rules and Regulations
The Organizer reserves the right to amend the Rules and Regulations without giving prior notification or any reasons thereof.
Registration for route category and number of participants cannot be changed for group registration once finished registration.
Relevant indemnity and declaration fields must be field up at the point of registration-failing which Organizer reserve the right to refuse entry to the participants.
Upon successful registration, there will be no refund of entry fees for any reason.
Participants are not allowed to transfer his or her race entry to another one.
Need to check and test the application you use prior to the race day. If an application has errors occurring at the race day, the organizer is not responsible for it.
At race day, need to complete the respective KM and submit the race result before 9:30am.
On the event day or post event day, the Organizer shall use photographs that runners posted on Facebook with public share and hashtag that related with the Pocari Sweat Virtual Run Event. Eg.#ItsTimeToReconnectAgain
We gladly offer returns and exchanges for the wrong size or defective item sent.
We do not accept exchanges for apparel that are damaged due to incorrect washing, ironing and caring methods.
Return items back within: 14 days of delivery after receiving.
Returned items have to be sent back to Pocari Sweat in neatly packaging without additional damaged or lost or being used and we gladly will pay for the delivery cost of return item.
Participants must be 12 years and older as of 31 January 2021 to participate.
All participants below the age of 18 are required to seek parental/guardian consent to participate in race.
All Pocari Sweat Virtual Run Runners are eligible to use Personal Accident Insurance on Event Day. If runner would like to get free personal accident insurance, he/she will need to opt in to share their personal information to insurance company.